Polymer Composite Solutions for Facility Maintenance Repair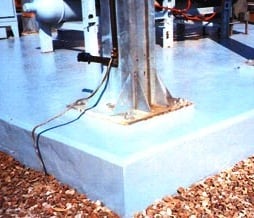 Facility maintenance repair now has a cost effective alternative to costly replacement or repair when it comes to building maintenance. Using high performance, VOC-free and odor-free polymer composites, cost savings in projected budget cost for facility projects is guaranteed to be realized.
Besides supplying the polymer composites needed, STRYTECH can provide your maintenance/engineering personnel with expert direction on the proper application of our products. If desired, we can provide complete turn-key project services in solving your maintenance and engineering problems with all work guaranteed.
These polymer systems offer solutions for mechanical equipment repair, and chemical resistant coatings for concrete surfaces degraded by chemical attack. In addition for concrete and masonry projects where traditional replacement is the normal costly action, now repair at a fraction of the cost of replacement is possible, resulting in a surface 4x the compression strength of concrete for greater useful life.
Polymer Composite Applications
Repair of severe erosion/corrosion damage to chillers, tube sheets, water boxes and flange faces.

Rebuilding and protecting all types of wastewater treatment fluid flow system components subject to chemical attack and corrosion.

Permanently stopping leaking pipes and fittings in minutes.

Rebuilding gasket seals.

Repairing Worn Shafts(repaired in place), cracked casings, scored hydraulic rams, tanks and cooling tower pans.

Chemical resistant coatings for floors, cooling tower pans, and long term repair solutions for municipal water storage tanks.

Cost Effective solutions for School districts in repairing concrete and masonry floors, pedestals, stairs, sidewalks, joint and trough edges, shower bases, kitchen areas.

Protection of stone surfaces against moisture and chemical attack.

Creating a "Cool Roof" using our unique liquid membrane coating for documented heat refraction on commercial/industrial roofs.