Facility managers, who are looking for ways to reduce operating cost, can look to our ENESEAL HR for your roof and cooling towers(chillers), or other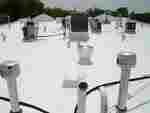 surfaces to yield measurable energy savings. The ENESEAL HR is not a paint but a single component, water based, liquid ceramic-filled membrane. It dries to a more durable than paint, seamless, flexible "skin", that refracts and reflects heat 10 - 30 degrees better than paint and higher for roofs without a heat refractive surface, while providing a moisture resistant barrier.
For the roof, the result is a "cool roof" and a durability that extends the time between repairs. It is also a great finish for cooling tower repairs, saving huge dollars versus replacement. In addition, there is a noticeable drop in the internal temperature of the tower by 10 - 30 degrees compared to paint, thus reducing energy consumption in hot weather and extending the useful life.
For roof repair, using our SUPERBOND and ENESEAL HR to repair holes and open seams in the roof and provide a moisture resistant barrier that can cut the cost of conventional roof replacement by over two-thirds. On a recent project, the conventional replacement cost was projected over $2,000,000. Using the SUPERBOND, plus ENESEAL HR, and reinforcement cloth reduced the cost to just over $400,000.
For cooling tower repairs, the use of our CERAMALLOY to repair corroded areas plus 2 coats of ENESEAL HR ,gives aged cooling towers a "brand new appearance". In addition, greater energy efficency is realized with the heat refraction that the ENESEAL HR provides.
The ENESEAL HR can be used on all types of insulation, plastics, concrete, brick, block, slate, tiles, wood, metal, etc. It is easily applied by brush, roller, or spray. Because it's water based, cleanup is quick and easy with soap and water and remember it is completely non-toxic, non-flammable, and VOC-free.
In Southern California, give us a call at 310-592-0208 for a no cost estimate on your next project.