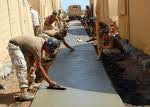 Maintenance Polymer Systems As Repair season shifts into high gear the traditional way of repairing concrete problems is to replace areas badly damaged such as, curbs crumbling from weather exposure, flooring areas corroded by chemical attack, steps damaged by water penetration and frost heaving, or high traffic areas of flooring that have succumbed to the impact of constant weight among many problem areas.
Use of our unique, VOC-free polymer systems make concrete replacement no longer necessary. The product for concrete repair, DuraQuartz, is a three-component polymer system, 100% solids, compound specifically formulated and precisely engineered to provide solutions to even the most difficult concrete repair and protection problems. It is unrivaled in its extraordinary adhesion.
This product is applied and feathered over the existing damaged structure or flooring and can be mixed to any consistency-from viscous liquid to stiff mortar. It is VOC-free and has little or no odor, so environmentally friendly. In addition, there is minimum noise level because jack hammers or pay loaders are not being used.
The results are the finest concrete repair and protection system available for one-half to two-thirds LESS the cost of typical concrete repair projects. In addition the surface now has a compressive strength of 15,000 psi, 3-4 times greater than concrete itself. Because the product is 100% solids there is no shrinking, eliminating water penetration
DuraQuartz is not only for concrete but will also bond to marble, stone, slate, terrazzo, tiles, and even metal.